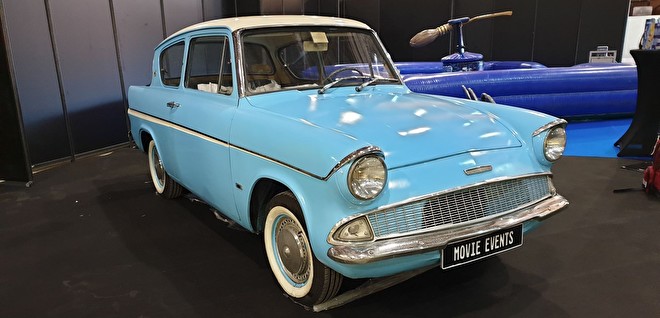 FORD ANGLIA 1964 - ARTHUR WEASLEY CAR.
The Ford Anglia is a car from 1964 best known as the Weasley car from the Harry Potter series.
The Ford Anglia is the car that Arthur Weasley buys to convert it from a Muggle car to an enchanted car. After this, the car can also stretch its benches to the size of a lawn chair, fly and become invisible. Mister Weasley really gets into trouble with this as he fights enchanted Muggle items at work
Harry escapes to the Nest with the Ford Anglia in Book 2 after being freed from his bedroom by the Weasleys brothers.
Later when Ron and Harry can no longer get from King Cross Station to Platform 9 3/4, which turned out to be Dobby's fault later in the book, they also take the car, which gets them into serious trouble.
The car also saves them from a large horde of Acromantulas from the Forbidden Forest.
The Ford Anglia is available for shows, events, film shoots, photo shoots and conventions.
Request information without obligation via the contact form!